Your Cart is empty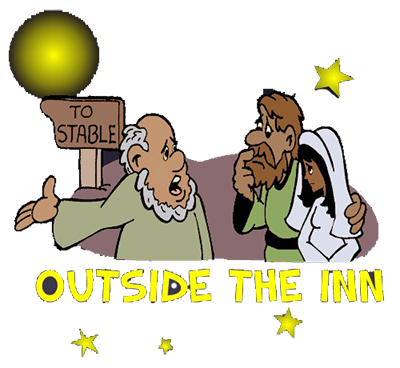 Outside the Inn has become a classic. Many churches have performed it several times over the years. It is a uncommon traditional pageant with original music and genuine, gentle humor. You will meet all of the biblical Nativity characters as they travel toward Bethlehem, discovering that they are all interesting and funny people with serious problems to overcome. The innkeeper is the fulcrum of this play. as he/she reminisces about the first Christmas.
You'll need 15 cast members. though ther's room for as many as you like.
It runs 30-35 minutes.
There are four original songs.
Some churches have added traditional carols.
What you are buying: With either purchase you have the right to reproduce the scripts and burn Cds or otherwise transfer the music files as much as you need to for your performance. The license for this is good for your church only, for as many many performances as you would like.

Don't want to use a credit card? Click here to download our mail-order form.
What you can expect form our musicals:
All plays work beautifully with either a kids-only cast or intergenerationally!
Great prices! Only $49.95 per show, inclusive-nothing else to buy.
Price includes royalty and permission to copy the script, and burn CDs of the accompaniment tracks.
You'll download script, recordings of the songs with voices, and performance tracks.
It's all digital--you download everything form our web site-it's really easy, and we'll help you!
Or we'll ship you a script and CD's for $69.95
Wonderful, memorable, original music and funny, meaningful, memorable scripts.
Lots of fun with great characters and gentle (yet still hilarious) humor.