KIDSWORD

Your Cart is empty
KIDSWORD CHILDREN'S WORSHIP BULLETINS Grades 4-6
Our bulletins are sold both by subscription and individually by theme and passage. CLICK HERE for a searchable sample list.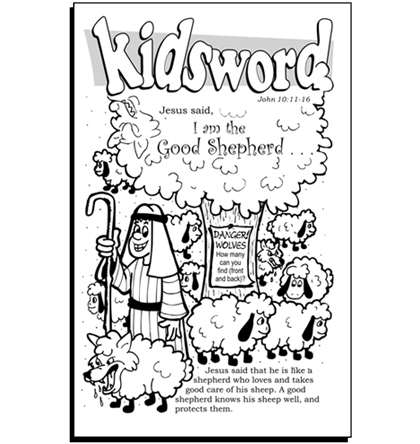 There are several ways to purchase Kidsword, and all of them will provide your children with entertaining and interactive Scripture lessons for pennies per child every week; and you save even more by ordering both age levels.
You can purchase our bulletins individually to match a lesson or sermon, based upon a passage or theme.
Or subscribe for a quarter, or a full year to bulletins based upon the Revised Common Lectionary for the Catholic, Methodist, Lutheran and Episcopal churches.
See all ordering options below. Note--we no longer ship hard copies, but only sell digital subscriptions. You may print as many copies as you need.

UNCOMFORTABLE WITH AN ONLINE TRANSACTION? YOU CAN DOWNLOAD OUR MAIL-ORDER FORM AND SEND IT WITH A CHECK.
| PURCHASING OPTIONS FOR DIGITAL DOWNLOAD | KIDSWORD | LITTLE KIDSWORD | BOTH EDITIONS |
| --- | --- | --- | --- |
| Children's Worship Bulletins: One Year Subscriptions | $25.00 | $25.00 | $35.00 |
| Children's Worship Bulletins: One Quarter | $10.00 | $10.00 | $15.00 |
| Children's Worship Bulletins: School Year-Sept Thru May/9 Months | $15.00 | $15.00 | $25.00 |
| All Undated Issues Sent To You On Flash Drive | $75.00 | $75.00 | $115.00 |
INDIVIDUAL ISSUES OF KIDSWORD ($2.89) CLICK HERE FOR SEARCHABLE LIST
| PURCHASING OPTIONS FOR HARD COPIES--MAILED TO YOU | KIDSWORD | LITTLE KIDSWORD | BOTH EDITIONS |
| --- | --- | --- | --- |
| Children's Worship Bulletins: One Year Subscriptions | $75.00 | $75.00 | $115.00 |
| Children's Worship Bulletins: One Quarter | $75.00 | $75.00 | $115.00 |
| Children's Worship Bulletins: School Year-Sept Thru May/9 Months | $75.00 | $75.00 | $115.00 |
| All Undated Issues Sent To You On Flash Drive | $75.00 | $75.00 | $115.00 |