LITTLE KIDSWORD

Your Cart is empty
LITTLE KIDSWORD CHILDREN'S WORSHIP BULLETINS Grades K-3
Our bulletins are sold both by subscription and individually by theme and passage.CLICK HERE for a searchable sample list.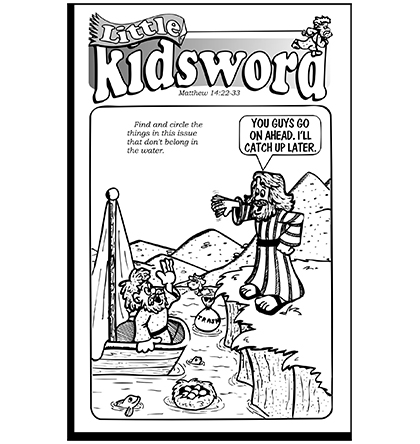 Like Kidsword, Little Kidsword contains age-appropriate lessons, puzzles, and illustrations thet will delight your K- 3rd grade children.

There are several ways to purchase Kidsword, and all of them will provide your children with entertaining and interactive Scripture lessons for pennies per child every week; and you save even more by ordering both age levels.
You can purchase our bulletins individually to match a lesson or sermon, based upon a passage or theme.
Or subscribe for a quarter, or a full year to bulletins based upon the Revised Common Lectionary for the Catholic, Methodist, Lutheran and Episcopal churches.
See all ordering options below.

UNCOMFORTABLE WITH AN ONLINE TRANSACTION? YOU CAN DOWNLOAD OUR MAIL-ORDER FORM AND SEND IT WITH A CHECK.
| PURCHASING OPTIONS FOR DIGITAL DOWNLOAD | KIDSWORD | LITTLE KIDSWORD | BOTH EDITIONS |
| --- | --- | --- | --- |
| Children's Worship Bulletins: One Year Subscriptions | $25.00 | $25.00 | $35.00 |
| Children's Worship Bulletins: One Quarter | $10.00 | $10.00 | $15.00 |
| Children's Worship Bulletins: School Year-Sept Thru May/9 Months | $15.00 | $15.00 | $25.00 |
| All Undated Issues Sent To You On Flash Drive | $75.00 | $75.00 | $115.00 |
INDIVIDUAL ISSUES OF KIDSWORD ($2.89) CLICK HERE FOR SEARCHABLE LIST
| PURCHASING OPTIONS FOR HARD COPIES--MAILED TO YOU | KIDSWORD | LITTLE KIDSWORD | BOTH EDITIONS |
| --- | --- | --- | --- |
| Children's Worship Bulletins: One Year Subscriptions | $75.00 | $75.00 | $115.00 |
| Children's Worship Bulletins: One Quarter | $75.00 | $75.00 | $115.00 |
| Children's Worship Bulletins: School Year-Sept Thru May/9 Months | $75.00 | $75.00 | $115.00 |
| All Undated Issues Sent To You On Flash Drive | $75.00 | $75.00 | $115.00 |